Aldo's Birthplace: the Starker-Leopold House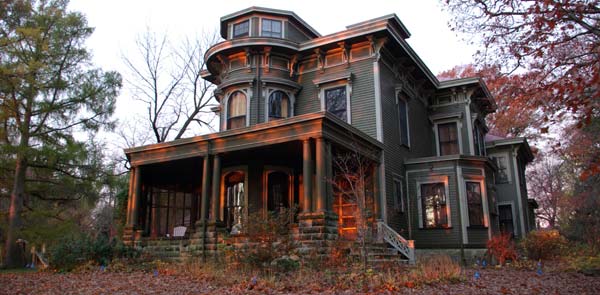 "The Transition Porch", built about 1907, one of Leopold's favorite places in later years.
 The Starker-Leopold House, 101 Clay Street, was Aldo's birthplace (1887) and home from 1887 to 1890 and 1900 to 1909.
Today it is a private residence.  The owners are Alliance supporters and provide access for Leopold Tours.  They are working with us for our purchase of the property.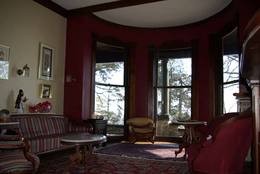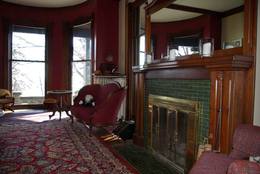 The bay window and fireplace at the Starker-Leopold House were especially important in the development of the family aesthetic.  The view from the bay window surely played a role in naming the estate Lug-ins-Land.
 Aldo Returns to Burlington Over the Years
As his career developed, Aldo stayed close to his family and his old home place overlooking the Mississippi.   He and Estella returned to Burlington and lived here from 1913-1914 during his recuperation from serious illness.  It was during this prolonged stay that Estella gave birth to their first child, Aldo Starker Leopold.
Also at this time, Leopold first read William Hornaday's, Vanishing Wildlife and gave it to his father as a Christmas present.   Aldo probably read some of it on the front porch where he spent a great deal of his time reading and writing back to the Carson National Forest in New Mexico.   He had written much of the Pine Cone Newsletter while he was Forest Supervisor and now from Burlington, he continued to submit several items reflecting on Forest Service activities. 
During a visit home in 1918, Leopold was quoted extensively in an article in the local newspaper concerning his opinions about the new bridge across the river and how the City should be purchasing the land on the Illinois side for a park. (Read the article here).  The article was written just after Leopold's stint at the Albuquerque Chamber of Commerce, and while he was theorizing a plan for the Gila Wilderness area; the first in the country.
Aldo returned often to visit Mother Clara, and to reunite with his brothers for holidays and hunting trips in the 1920's.  He also stopped in during his Game Survey travels in the late 1920's.  Later in the 1930's ad '40's, his family frequently visited him at the Shack.  In fact, the large serviceberry in front of the boyhood home (111 Clay St.) is a transplant from Wisconsin by Aldo and Fred.