Nature Quilt Exhibit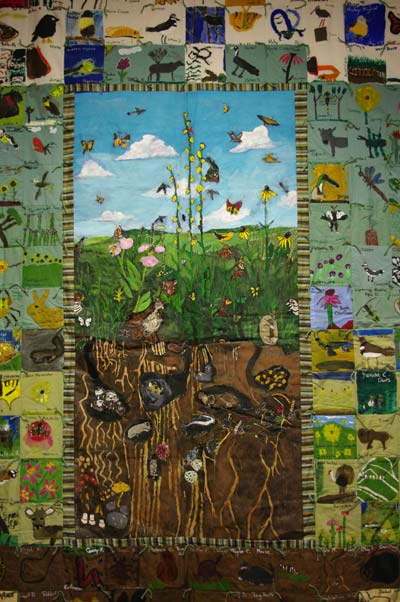 Pictured above is the "Prairie Quilt" created by Lisa Gruver and students in the Macomb, IL School District.   These 4th, 5th & 6th graders designed and painted four quilts:  the Rain Forest, the Prairie, the Oak Woods-Savannah, and the Rivers & Streams. 
Before moving to Macomb, Lisa worked in Costa Rica with students on environmental education projects concerning the threatened Monteverde Cloud Forest.  When she settled in Macomb, she brought the rain forest idea along, and started working on the first quilt with students.
In the process, she realized that the kids did not know the "nature" of their own homeland.  So, to help them appreciate their local landscape, the prairie was chosen as the second quilt subject.
The mission of the project is to "sew partners together to help kids understand the interconnection between people and the natural world around them and to protect or restore native habitats at home and abroad."
Lisa was a founding board member of the Prairie Land Conservancy of Macomb, which includes Henderson County across the Mississippi from Burlington.  Henderson County was very important in Leopold's life, and continues as a part of our local nature.
Lisa studied Aldo Leopold.  The tall yellow flower in the middle of the prairie quilt is a compass plant, a favorite of Aldo's.  It is with these connections in mind that the PLC has loaned the quilts to Burlington.
As PLC grows northward toward Burlington, we hope to work together, conserving prairie-black jack oak savannah and bottomland timber.
We thank the Prairie Land Conservancy for loaning the Quilts to us.  They have been on display in the Leopold House and have stimulated much conversation about Leopold's influence on today's youth.