Contact Us 

Leopold Landscape Alliance Contacts
Board of Directors: 
Estella Leopold, PhD, Paleo-Botanist, U of Washington, Seattle   206-957-2456                                                    Jerry Rigdon       ledgerguy@lisco.com       Burlington, IA             319-750-8746                                                  Dave Riley          dalin12@mchsi.com         Burlington, IA             319-759-8724                                                     Steve Brower      brower406@aol.com        Burlington, IA             319-759-5062                                                       Cliff Reif              creif@reifoil.com               Burlington, IA             319-752-9809 
---

---
---
Walking in Leopold's Footsteps

"Thank you for giving us all such a wonderfully pleasant and educational day in Burlington.  It was such an unforgettable experience.  You chose perfect places for us to see, and your power point presentation provided the historical and biographical perspective (for) us to appreciate their great significance.  I particularly appreciated learning about Leopold's geological interest and then the story of Grandfather Starker's objections to Mr. Crapo's flowery terraces at Black Hawk Springs.  You really are making a great case for the importance of Leopold's family background and youth to his later thought and pioneering work in ecology, as well as his literary skills in promoting conservation and popularizing ecological thought."
"Almost all modern biographers try to relate their subjects' youth to their later work.  But this seems especially important with a nature writer, because of the lessons it should hold for other young people and their parents and teachers.  Biographies of great poets and presidents cannot seriously help us make our children and students into new Whitmans or Lincolns.  But (biographies) should, I think, help us realize the importance of youth in the development of a love of the natural world, our universal "great possession".  Thus it is enormously important to recover all that can be recovered about young Aldo's family and early indoor and outdoor education, the 'education of an ecologist'."            
 -- our friend and supporter, the late Robert Sayre, Professor of English and American Studies, University of Iowa and author of Recovering the Prairie 1999.  We are very thankful and proud to have the memory of Bob's enthusiasm carry us forward.
---
In recent years Burlington has already had visitors searching for Leopold's roots of wisdom from all three Iowa State Universities, Western Illinois University and several colleges. Leopold's international visitors come from far and wide, including Canada, Mexico, England, Ireland, Austria, France, Germany, Turkey, India, Nepal, China, Japan, Iran, Malaysia, South Africa, Nigeria and Guatemala.
" I just looked at the Leopold Landscape Alliance website, and please know that I admire your activities immensely.  Perhaps this magnificent house in Burlington will be a Leopold Museum one day.  In the Green Fire Film, the part that includes (the) front of this house is just very meaningful.   Now LLA will be very influential in revealing the importance of these unique landscapes in the evolution of Leopold's Land Ethic.  My personal conviction is that the Land Ethic will soon be very influential in conservation activities worldwide. "             
--Ufuk Ozdag, Ph.D, Dir. Land Ethic Center, Professor and Chair, Department of American Culture and Literature, Hacettepe University, Ankara, Turkey.

---
---
Tours, Programs & Adventures
Tours of the Leopold Boyhood Home can be scheduled by contacting any of the Alliance Board members.  For groups of 10-15 the cost is $100,  time 1-2 hours.  Special arrangements can be made for large groups.
Longer tours of up to 6 hours are available that include visits to Leopold's childhood tramping sites and may include a Leopold program.  A great way to spend the day!  Lunch at a restaurant on the river or following in Leopold's footsteps with a picnic lunch.  Contact:  Steve Brower brower406@aol.com for details.
 Programs
Short Programs for Service Clubs and other community groups
Ideal information bytes for luncheon programs and clubs.   Free.  To schedule, contact Jerry Rigdon or Dave Riley. Presentations include photos pertaining to Leopold's childhood and natural areas.
Green Fire  Showings
Screenings of the one hour film, Green Fire; Aldo Leopold and a Land Ethic for Our Time are available.  The Aldo Leopold Foundation has kindly granted us a public screening license.  This showing can also include introductions and behind the scenes photos from the filming.  Free.
Longer Programs 
Programs are available for presentation to any sized group.  Contact Steve Brower for scheduling and costs. Topics include:
Aldo Leopold and the Roots of the Land Ethic
Leopold's childhood experiences were significant to evolving the Land Ethic.  Family cultural education in the humanities  and discoveries in the local wild landscapes gave Aldo a head start on conservation.  We take a look at the Leopold Compound and some of his favorite places to learn more about the reflections he used in later writings.  These early years stimulated his imagination and he continued searching for personal connections to nature as he dealt with conservation challenges along the way.
Aldo Leopold's Youthful Discoveries & His Relevance Today
Leopold's childhood could become a model for how we help today's children balance our increasingly technological culture with nature.  Leopold realized that his reactions to nature, his discoveries while ranging through wild places built character, created values, and provided relief from fast paced society--all in ways that serve the individual, and thus the community.    Wild places close to home and school serve humans in unexpected ways.  We visit the Aldo Leopold Middle School Prairie Classroom to see how and why. 
The Starker-Leopold Family: Connecting the Humanities to Nature
Leopold's extraordinary family was the source of a home ground education that linked portrayals by writers, artists and musicians to a real nature around home.  The Starker grandparents brought a European longing for a more balanced society with wild spaces that had been lost in the homeland.   In America was a chance to get the relationship between humans and nature right, but it was a matter of balancing the practical and poetic.
Leopold in the Southwest and Wisconsin
Follow Leopold to some of the places he worked and helped save for us today in New Mexico and Arizona.  Add to the impressions he created in essays and letters, by looking at more details.  In Wisconsin we tour the Shack area and some of the rivers and marshes that played an important role to bring back the sandhill cranes.
---
---
Friends at Other Leopold Organizations
There are several other Leopold organizations and its important to know the differences in their names, activities and locations; so here's a partial list to get you started.  They are all doing great work and we encourage you to visit their websites, and learn more about Aldo Leopold.
Aldo Leopold Foundation, Baraboo, Wis.  www.aldoleopold.org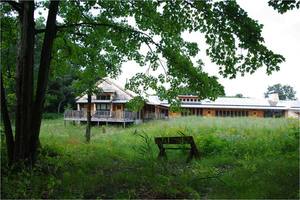 The Foundation was started by the Leopold Family to preserve the Shack and surrounding areas.  Their new Leopold Legacy Center is nearby the Shack and open for visitors.  They have events, programs and conferences that you will be interested in.  Become a Foundation member and support the Burlington--Wisconsin connection. Take a weekend trip to visit Leopold's old sand county farm that inspired his observations in A Sand County Almanac.

Leopold Center For Sustainable Agriculture, Ames, Iowa  www.leopold.iastate.edu
The Leopold Center for Sustainable Agriculture is a research and education center at Iowa State University created to identify and reduce negative environmental impacts of farming and develop new ways to farm profitably while conserving natural resources. Competitive grants are offered for research conducted in four program areas: Ecology, Marketing and Food Systems, Policy and Cross-Cutting (water, energy, soil and alternative farming systems).
Leopold Heritage Group, Burlington, IA  www.leopoldheritage.org
The Group works to advance Leopold's philosophy through a variety of activities, especially in April.  They also work to raise awareness through programs and activities at the Aldo Leopold Middle School Outdoor Prairie Classroom.
 Leopold Loft, Des Moines County Conservation, Burlington, IA www.dmcounty.com
The Loft is a public meeting space with displays at the Nature Center in Starr's Cave Park & Preserve on Flint Creek, one of Leopold's old tramping grounds.  Also the new Leopold Recreation Area is on Flint Creek, closer to the Mississippi.  It is the future site of wetland restorations and a new nature center, operated by Des Moines County Conservation.
Aldo Leopold Nature Center, Monona, Wis.  www.naturenet.com/alnc/ 
A wide variety of programs for children and the whole family throughout the year.  They have an additional campus at Black Earth, WI.

Aldo Leopold Wilderness Research Institute , Missoula, Mt. www.leopold.wilderness.net
The institute is sponsored by multiple federal agencies with the mission to provide scientific leadership to sustain wilderness. Located on the University of Montana campus.